We're now at the tail end of the pandemic (fingers crossed) after a challenging year and a half. If you are an Operational Manager or Founder, you may be feeling a bit uncertain when it comes to understanding what work life may look like in 2021 and what your team will expect after the summer.
In June this year, our partner Skandia Fastigheter published the results of a survey that was shared with their building tenants to understand the changing trends when it comes to how people want to work in the future, and what needs they will have.
Despite many reports in the media of companies allowing their employees to go fully remote, the results show that only 2% of survey respondents plan to work completely remotely after the pandemic, while 44% plan to work remotely for only 2 days per week.
Although 80% of those surveyed think that tasks can generally be handled at home in a sufficient manner, the top four aspects that people feel they miss the most when working from home are ranked as follows:
Colleagues (91%)
Corporate culture (50%)
Good ergonomic conditions (45%)
Creative environment (34%)
The data shows that creative work, leadership, networking and innovation take place best from the office when compared to working from home. Daily tasks, decision-making, meetings and personal development on the other hand, can take place either in person or online to a similar standard.
For small to medium sized companies, it might not make financial sense to rent out your own office which then comes with additional costs relating to technology, furniture and other equipment, especially if your team is expecting to continue working, at least sometimes, from home. The survey also looked into what people want from their work office.
The top five requirements that the office should have are:
Places for social interaction
Good ergonomics
Large meeting rooms
Smaller meeting rooms for digital meetings
And the office should strengthen the company brand
There are of course other properties that make an office attractive. The top five requirements come in as follows:
Good geographical location
Good public transport
Proximity to restaurants / cafes
Bicycle parking
Proximity to trade / service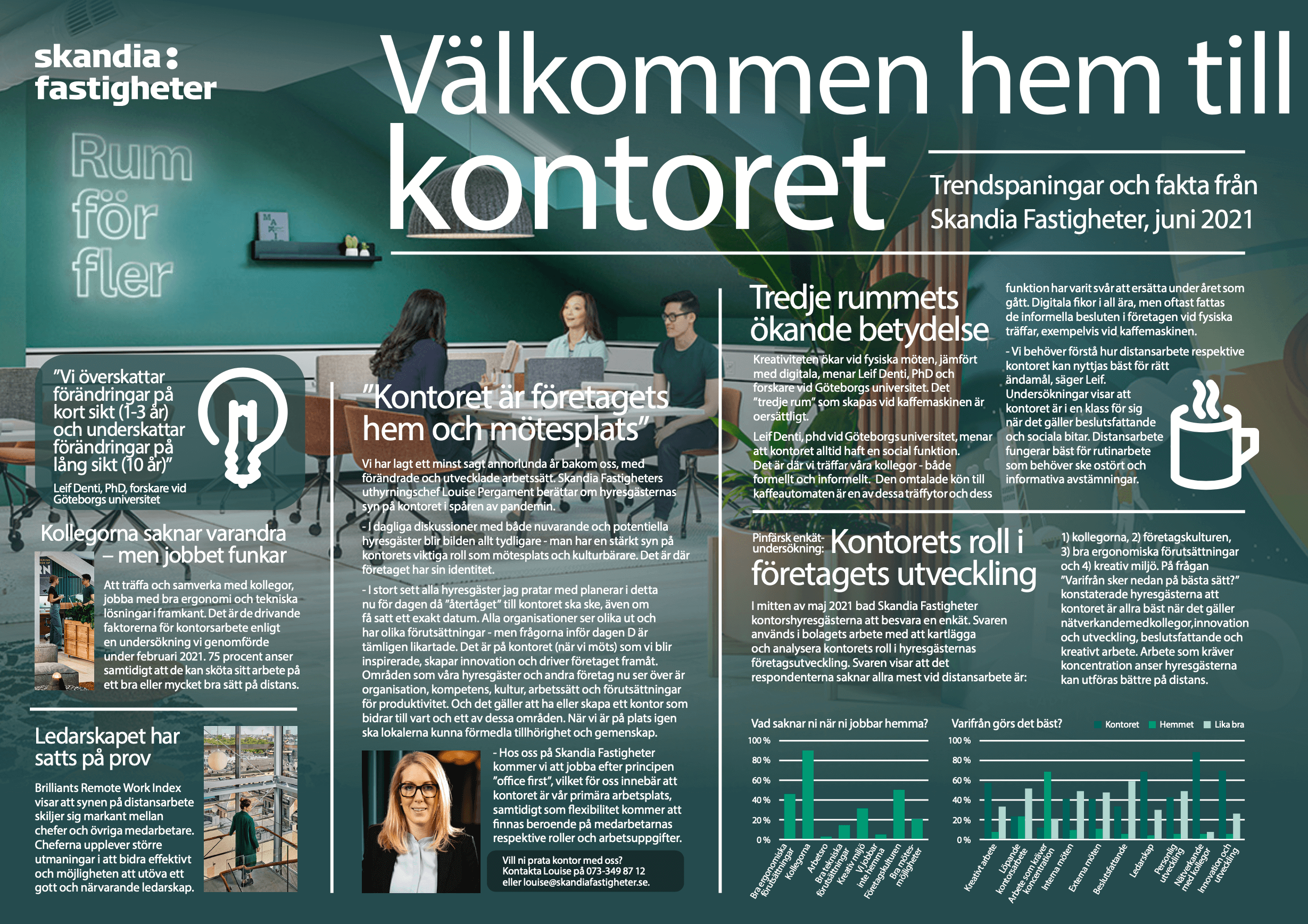 So what does this mean for you as a decision-maker for what your company office looks like? I always recommend asking your team what is important for them in terms of physical presence and flexibility before making any decisions. The last thing you want to do is kill your company culture and innovation by assuming that people will be fine working from home, or sign a lease on a private office that ends up being barely used because it doesn't provide the social environment that people need.
Impact Hub Stockholm at Verkstan ticks all the boxes when it comes to what people want from their future workplace. Conveniently located in the heart of Stockholm, Impact Hub Stockholm's flexible workspace sits across the laneway from Mood which boasts over 60 shops and restaurants. Just a 2-minute stroll from both the Hötorget and Östermalm metro stations, and 10-minutes from NK and major bus lines, the property also has a private courtyard for bicycle parking and a shower room so you can arrive to work feeling fresh.
Our largest meeting room is fitted with a 4K Logitech Meetup video conferencing camera so your team can hold hybrid meetings. Professional softbox lights are also available to rent if you have important video meetings with clients and partners. We can help you to arrange both physical and virtual events from our event space / studio and we secure unbeatable rates for live streaming services for our members.
For purpose-driven companies and individuals, we provide greater visibility for you through our network and help you to make professional connections that can help you on your journey. For more than a decade, Impact Hubs around the world have been pioneering a world where business works for both people and planet. Members have used our network of 100+ communities in over 60 countries to develop, launch, and scale their impact companies.
Click here to view our flexible coworking plans
How can coworking create a sense of belonging and improve your work-life balance? Read more here
Looking for tips to improve your home office? See my top tips here
AUTHOR:
Cathy Xiao Chen is the Head of Operations at Impact Hub Stockholm. With a passion for supporting social impact, she advises and connects changemakers with collaborators to maximize impact.